Mastercard was in recruitment mode for its Start Path group at ETH Denver last week with a pitch to attendees and their hot crypto companies. Partnership and building were the key themes by company representative Grace Berkery who is Program Manager, Fintech & Enablers – Digital Assets & Cryptocurrencies,
Mastercard announced its inaugural startup accelerator program in July and Berkery highlighted to the audience the vast resources of the traditional fintech company – and its $350 billion market cap – as well as its commitment to the blockchain and crypto space.

Recent blockchain-related announcements for Mastercard include:
In December, the company inked a deal with MetaMask developer ConsenSys to create a rollup offering on Ethereum mainnet for improved scalability. (see release).
During its January earnings conference call, the company said it was partnering with Coinbase to help facilitate the purchase of NFTs by consumers.
This month, Mastercard said it is expanding its digital consulting business, too (see release).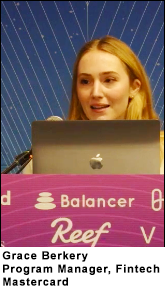 Berkery pointed to a startup's need to quickly get a product to market and said that Mastercard's global reach can assist. She added, (lightly edited) "We've seen a huge uptick in corporate venture development teams investing in startups. We expect that to continue into 2022 which is interesting because not only can you look at corporates to form commercial partnerships that help you scale, but you can also look to them to either function as a financial or strategic investor…"
"In the last six months, we realized after talking to companies in the space that blockchain, crypto digital asset companies required a different level of needs. So we have launched a specific program dedicated to supporting these companies. And that's why I'm here. (…) It's a three month virtual program that provides high potential startups investment and access to MasterCards channels and customers."
Berkery explained that her company has an online application process (here) and, depending on the idea, a startup may be introduced to different teams throughout MasterCard to make sure that there's a fit before a startup is ultimately selected for the program.
The good news for all is Mastercard wants to stay ahead of the innovation curve with blockchain.
Get More: