Last Thursday, a live event burst into D.C.'s emerging post-covid reality as Politico produced,  "Regulating the Digital Gold Rush" sponsored by Grayscale at the Hotel Washington.
The one-hour event in front of 150-200 attendees did not disappoint and was highlighted by a new congressional crypto partnership between Senator Cynthia Lummis (R., Wyoming) and Senator Kirsten Gillebrand (D., New York). The senators presented hints on their coming digital assets legislation in a conversation with Politico reporters Sam Sutton and Ben Schreckinger.
Will this be the seminal bill desired by pro-crypto legislators and the blockchain industry? After President Joseph Biden's crypto Executive Order two weeks ago, momentum is clearly building.
Notably contrasting the partisan rancor typical in the Capital city, the senators appeared synchronized – albeit with the sense that Sen. Gillibrand is still getting up to speed – across a wide-range of far-reaching digital asset talking points. Potential crypto-friendly regulation connected to the complexities of mining, effective use of energy in the crypto world as well as the de minimis $600 tax rule were singled out in addition to maintaining the United States leadership role in innovation.
In regards to new legislation that she believed could be passed before the end of 2022, Sen. Gillibrand stated:
"This is an issue of competitiveness, opportunity, entrepreneurialism and the opportunity for innovation. And innovation always thrives when you have a regulatory framework that is not only accountable, but can be relied upon. And that's why innovation often comes out of US markets -because we have it, you can count on someone not fleecing you and not creating fraudulent products."
This was a bit of a coming out party for Senator Gillibrand as it related to pro-crypto legislation as Senator Lummis and her state of Wyoming have been known for their early support of crypto and its industry. New York State most recently has been on fire with over 20 crypto bills of various leanings introduced in the state's legislature since the start of the year according to Protocol. Nevertheless, Sen. Gillibrand pointed out that her constituency's needs in crypto are huge given the fact the Wall Street establishment, and therefore the hub of global finance, is in New York City.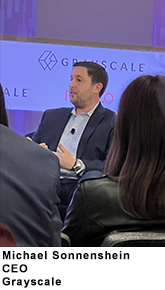 Meanwhile, during the event's opening conversation with Politico's Heidi Sommer, Grayscale CEO Michael Sonnenshein explained that his company's interest in another regulatory issue is as strong as ever.
Grayscale looks to convert its crypto investment trusts into the seemingly, more easily investable ETF (Exchange Traded Fund) formats. Being more palatable for investors and government policy officials alike is a challenge given today's regulatory environment where it's still early days with little clarity. Still, Sonnenshein sees a change in DC:
"We are now at a place where the level of understanding and the level of engagement is the highest it's absolutely ever been. There are no more Bitcoin 101s or 'How does proof-of-work – or proof-of-stake work?' or [how does] digital asset mining [work]? Instead, we're actually getting into the issues around how these assets are going to be treated. And we think that's exceedingly encouraging."
Ironically, in a show of hands from the audience, Sonnenshein asked how many owned crypto and nearly 90% of the of attendees raised their hands with only a few claiming to own an ETF -let alone a crypto-backed ETF.
Sen. Lummis, who sits on the Banking Committee, and Sen. Gillibrand, who is on the Agriculture Committee (i.e. commodities and CFTC involvement) and brings a securities lawyer background, readily admitted that they are in the beginning stages of writing the legislation and look forward to talking to a wide-range of stakeholders including fellow legislators, regulators and industry experts.
Senator Lummis said she saw a greater role for the CFTC in regulating spot markets and that the SEC will have its share of responsibilities, too. She was emphatic that Bitcoin and Ethereum are commodities and said regarding the thousands of others of cryptos:
"We'll still be using the old Howey Test from the 1940s to help define what is a security and what is a commodity and the SEC will also have a huge role in this space. Additionally, when you look at stablecoins and a possible CBDC – a Central Bank Digital Currency – those are going to be addressed in this bill to a smaller measure.
So, for example, if we had a central bank digital currency, it would likely not be like the digital Yuan [from China], which is more of a direct-to-retail customer type of asset. Ours would function more like the current Fed where our central bank digital currency would allow for faster and cheaper transfers of money among central banks both internationally and within the United States and the Bank for International Settlement and so forth. And then it would be the banks that would be the issuers of stablecoins and they would be pegged to the dollar as opposed to the digital Yuan. So, these are some of the things that we're kicking around in this."
Senator Gillibrand added later, "Just for clarity, the CFTC has certain strengths and the SEC has certain strengths. The CFTC is a very small agency compared to the SEC. If we give the spot market to CFTC jurisdiction, they're going to need more resources, they're going to need more personnel. SEC is particularly good at finding out fraud and creating investor protections and creating safety and security and soundness and consumer protections. So they both have a really important role to play in different parts of this industry."
The senators appeared to concur that laws are needed to move the industry forward. Sen. Lummis' discussed her Banking committee's hearings on crypto and recent sanctions against Russia due to its invasion of Ukraine: "It's provided us an opportunity to further educate members of Congress including as you point out – the Hawks in my caucus – about the advantages of digital assets, especially Bitcoin when it comes to sanction imposition and conveyance of monies to our allies."
Politico's Sutton pushed specifically on the use of digital wallets and the anonymity which is introduced and making some members of Congress queasy given the perceived ability to evade law enforcement. Sen. Lummis didn't hesitate and echoed the libertarian leanings of her state saying, "Certainly the anonymity of the sender and the recipient is retained. [But,] the transaction itself is very apparent. That's the whole point of the ledger of the blockchain, the completely distributed ledger and the decentralized nature of Bitcoin and other digital assets."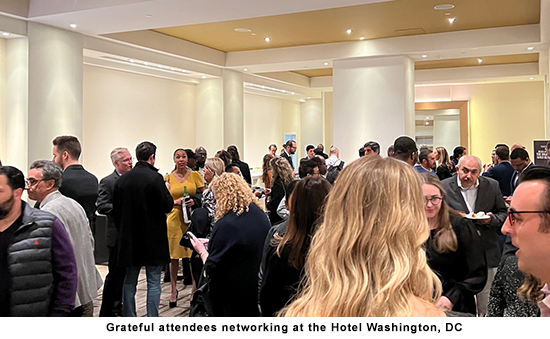 Get More: