Three things are for sure given Peter Thiel's speech last week at Bitcoin 2022 in Miami…
Thiel likes Bitcoin.
And, he likes Ethereum "if it works."
And, he also thinks the crypto community can be galvanized into supporting the Republican Party.
Today, Politico's Stephanie Murray reports that FTX Digital Markets co-CEO Ryan Salame has started his own political action committee (PAC) called, "American Dream Federal Action."
Murray quotes from a statement on the PAC's raison d'être: "forward-looking Republican candidates who want to protect America's long-term economic and national security" and "forward-looking conservative leaders who understand the urgency of advancing smart policies that set America up for success."
But then on the home page for the site, "conservative" and "Republican" were omitted leaving plain ol': "forward-looking candidates who want to protect America's long-term economic and national security."
Beyond the editorial theater, the message is out. Crypto is going partisan. More precisely, some of its supporters, as well as opportunists, are making it partisan. Another milestone!
The question will be how much U.S. crypto holders and their proponents listen – a notoriously free-thinking, libertarian group at its core where the last thing anybody wants is to be centralized around a single human being (Satoshi excepted, and maybe Vitalik).
Thiel laid down the gauntlet last week ascribing the "woke" descriptor – i.e. Democrat – on TradFi luminaries Warren Buffett, Larry Fink and Jamie Dimon for liking on "blockchain technology," ESG investing and hating on Bitcoin. It's not clear that the audience was totally buying into Thiel's argument. But, it was entertaining and oft-quoted while potentially signaling wider efforts by Thiel and other partisan interests as fall Congressional elections approach in the U.S.
Unquestionably crypto has been political for a while – it's popular with voters – as some politicians have come out clearly in favor of the emerging megatrend ranging from Congressman Tom Emmer (R., MN) to former presidential candidate and Democrat Andrew Yang. But, Thiel makes it clear that crypto is a Republican thing in his view.
Side note: Thiel declaring the hegemony of the Gerontocracy.
Ugh… gerontocracy stuff. Are you ready to make me into Soylent Green, Mr. Thiel? At 54, he's an older GenX-er – that's no spring chicken.
More importantly, a clear majority of the voting public in the last election are above 50 according to Pew Research data in the 2020 election.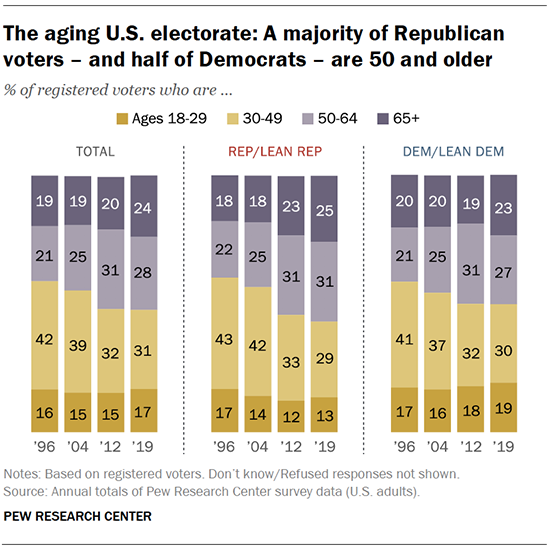 Turning blockchain tech and bitcoin into a partisan and generational face-off appears on its way even though the transformational potential could benefit all.
Democrat v. Democrat
Thiel is seizing on an opportunity: Democrats seem at war with themselves on crypto.
Democratic congressman Brad Sherman remains one of the most demonized members of Congress for his anti-crypto position. But that hasn't stopped Democrat Aarika Rhodes as she tries to unseat Sherman this fall with her own pro-crypto agenda.
The Washington Post goes deeper on the Democratic pro-crypto effort while Senator Elizabeth Warren (D., MA) has taken her highly-publicized anti-crypto stance. But then there's the President's Executive Order.
In New Jersey, a Democratically-controlled legislature is trying to attract crypto business from neighboring New York State, also with a Democratically-controlled legislature.  The "Digital Asset and Blockchain Technology Act" touts crypto-company-friendly laws and consumer protections. Assemblyman Joe Danielsen (D-Middlesex, Somerset) says: "If we want to keep our economy innovative and competitive, we must welcome emerging industries to do business here in New Jersey. It's also important that we establish fair and reasonable requirements for this new sector that will protect businesses and consumers alike."
Republican + Democrat
Noticeably, there's a bi-partisan trend, too, as many want to be known as a hodlr regardless of party.
Two weeks ago, Senator Lummis (R., WY) and Senator Gillibrand (D., NY) announced their partnership on future digital assets legislation that they hope to pass this year.
Membership in the Congressional Blockchain Caucus is popular across party lines. See it.
In the Senate, there's the Financial Innovation Caucus led by Senator Marsha Blackburn (R-TN.), along with Senators Lummis, Kyrsten Sinema (D-AZ.), John Hickenlooper (D-CO), Tim Scott (R-SC), and Mike Braun (R-IN).  See that one.
The Constitution was created amidst Republican and Federalist interests. Is this bipartisanship signal for future integration of blockchain in our society?
Thiel said at the end of his speech, "We have to go out from this conference and takeover the world."
Satoshi had no comment, as usual.