Momentum in the blockchain and cryptocurrency industry was on full display as ETH Denver 2022 pulsed in the Mile High city last week. Among the Saturday slate's many presentations, Blockchain Association executive director Kristin Smith explained the state of the industry from her perch as she helps manage industry connections to DC policymakers.  
To begin, in addition to her work around DC-focused industry communications, Smith sketched out the Association's org chart which includes key members such as Jake Chervinsky, the organization's head of policy in DC, and a lobbying team which interacts directly with government policymakers across regulatory and legislative functions. 
As for challenges the blockchain industry is encountering today, there are many according to Smith. She identified several recent developments while remaining sanguine about the industry's prospects overall saying, "As an industry and ecosystem we are in a really strong place in Washington and our political power is only growing. If we continue to work together in a coordinated way, I think the policies are going to work out just fine."
A selection of the recent developments…
Former Treasury Secretary Mnuchin's last minute proposal on crypto wallets as he was on his way out the door in the waning days of the Trump administration – It would have prohibited centralized wallets from interacting with unhosted wallets undoubtedly with Mnuchin's thought that KYC (Know Your Customer) and AML (Anti-Money Laundering) laws are being obviated. Fortunately, Treasury relented after industry pushback.
Last summer's Infrastructure Investment and Jobs Act which was going through the U.S. Senate and included a provision that greatly expanded the definition of what a broker is – Potentially miners, stakers, hardware and software wallets as well as software developers would be on the hook for providing tax reporting documents to the IRS. Smith said that 40,000 comments and phone calls into the Senate in five days may not have prevented a revision of the language in the bill but, in the past couple of weeks, the IRS appears to have pressed pause. According to a recent letter from the federal tax organization, it will more narrowly interpret the definition of brokers. In general, tax issues remain an action item for the industry and Smith said that beyond tax reporting, there are questions around staking rewards and lending and clarity still needs to be written into the tax code. 
An onerous last minute provision tucked into the America Competes Act – Smith compared the industry response to the America Competes Act provision as similar to the infrastructure bill and within a couple of days legislators didn't want is to experience another battle similar to the previous summer where she said the blockchain industry's pushback held up legislation from moving forward.
The Future Docket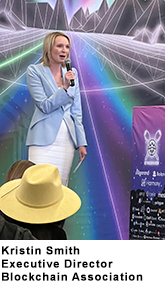 Moving beyond the recent rear-view mirror, Smith noted issues ahead where the industry will need to be defensive if not proactive. Chief among them is climate where she indicated there is a lot of misunderstanding among policymakers beginning with Bitcoin mining.  Lacking the nuance on differences between miners across Layer 1 blockchains such as Bitcoin and Ethereum, there is an opportunity for more education for policymakers from the blockchain community, she said. 
Anti-money laundering policy and cryptocurrency is also another important issue for government and the blockchain community. According to Smith, "Every time there's a ransomware attack or some other criminal activity, there are going to be policymakers that want to crack down. We need to hold the line and make sure that we don't get any new policies enacted and do a better job explaining all of the technologies out there that enable law enforcement to go after bad guys."
Stablecoin policy – which has piqued lawmakers interest since Facebook's failed Diem efforts – is also a key issue in DC. Smith said the discussion has moved from an outright ban to a way to figure out disclosures about reserves for coins like USDC. She added, "The key issue was we want to make sure that issuers have reserve-backed stablecoins don't have to be banks -but they can be a bank if they want to." 
Finally, the bridge between the blockchain industry and arguably its chief regulators – the Securities and Exchange Commission led by Commissioner Gary Gensler – is a challenge unto itself.  Ms. Smith said that Commissioner Gensler "is very interested in bringing more regulation to the crypto space and from his worldview, he thinks almost all crypto assets are securities … I think most of us working in this space take a different view."
Smith challenged attendees and the blockchain industry writ large to make sure investors have the right kind of information for making an informed decision about cryptocurrency and related blockchain investment opportunities. She thinks helpful solutions for investors in concert with addressing concerns by lawmakers could lead to more investment in the space in addition to bringing in hugely influential traditional banking and investing institutions.
Finally, Ms. Smith laid out five "to-do's" for active participants in the blockchain industry in order to help move things forward in Washington, DC:
Get a lawyer – "Having a general counsel who can help you understand the risks and help translate those risks to those of us working in Washington… Some of the greatest thinking in this space is coming from the General Counsel at Aave or Dydx or Uniswap [for example]". 
Support existing organizations in Washington – Join the Blockchain Association if you are a company or CoinCenter if you're an individual. 
Be a political contributor to crypto candidates – A full-slate of pro-crypto candidates need support according to Smith.
Open a Washington office – This is for a large organization. "It's very common for companies in DC to have full time people working on government relations issues working on regulatory issues," added Smith.
Join the conversation – In addition to providing thought leadership and teaching opportunities to those in DC who may need it, Ms. Smith identified a "crypto superpower" which works well and allows industry participants to work in a collaborative, asynchronous and impactful fashion that most industries are unable to replicate. She explained, "When something bad happens, the ability for us – within a matter of hours – to start to generate conversations on Twitter, to get letters and phone calls into the Senate – this is an amazing superpower that I have not seen out of any industry that I worked for in my 20 year career in Washington."
Get more: